Why Premium?
Premium vendors receive more attention,
more leads and drive more sales.
More attention via preferred listings
Category pages are where your products are listed. As a premium
vendor your're listed higher on the page, getting seen by more customers.
More leads via detailed information
Referral buttons will appear on your product page, linking to several information pages,
driving traffic and boosting your sales.
10% discount on media campaigns
Enjoy 10% off the cost of getting promoted in DiscoverCloud campaigns
and special promotions.
Upgrade Now
Attract new customers and raise brand awarness with Premium!
As a premium vendor, you'll be listed higher
on your product's category page, increasing
your visibility and brand awareness.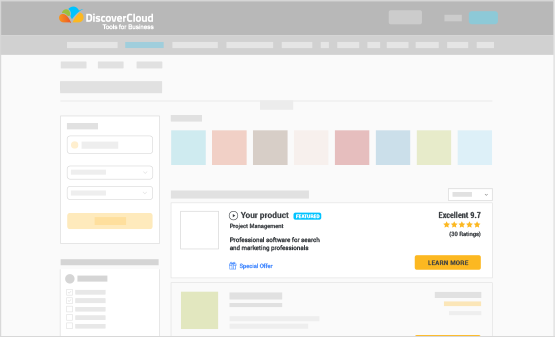 As a premium vendor, you get referral
buttons that apperas on your vendor product page, linking directly to your pricing, features and demo pages, driving traffic and boosting sales.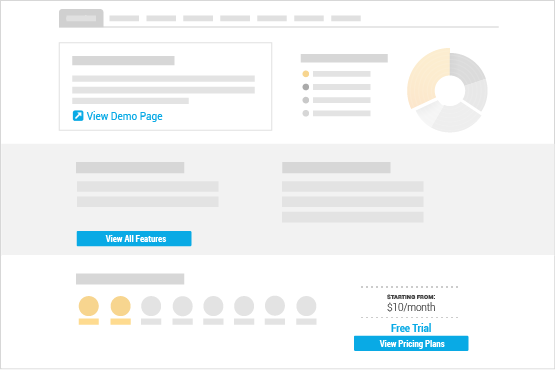 Get a 10% discount on
all media campaigns
DiscoverCloud media campaigns cast a
wide net, gaining you exposure across the
web. As a premium member you enjoy 10%
off the price of participating in a campaign,
providing a boost to your ROI.
Reach the Right People
at the Right Time
DiscoverCloud directly targets an audience
of freelancers, tech startups, SMB owners,
agencies and business decision-makers in
the midst of their decision-making process.
Upgrade Now
Get maximum exposure to your product or service starting today.
Upgrade Now
If you have any questions or wish to learn more about our plans, please
get in touch
.
Managed Campaigns:
Contact us for more details about managed campaigns.
Common Questions
What types of visitors can I expect?
Both DiscoverCloud.com and our B2B network directly target an audience of freelancers, tech startups, SMB owners, agencies and business decision-makers
Can I switch between plans?
Switching between plans is easy and you can upgrade or downgrade at anytime by contacting our support team at: support@discovercloud.com.
Can I request a partial refund before my campaign ends?
We don't have any unhappy customers. If your campaign is not over yet and you wish to get refunded, we will reimburse you for your unused budget.
What is the minimum subscription period?
The minimum duration is a single month, after which the service is renewed automatically unless you choose to cancel it beforehand.
What happens after I pay?
After your payment is confirmed, our team will process your campaign requirements and will follow up with you to get the ball rolling.
When will my credit card be charged?
Your credit card will be charged from the first month of service when your subscription begins and, after this, on a recurring month-by-month basis (on that same date).
Who manages my campaign?
DiscoverCloud's team of B2B media experts handles all aspects of your campaign on a day-to-day basis.
Where can I see my invoice?
An invoice will be sent to your via email immediately after the transaction is confirmed.
Can I monitor my campaign's performance?
Of course. Our team provides you with a dedicated dashboard from which you're able to track and monitor the performance of your campaign.
What payment methods are available to me?
Services can be paid either through Paypal or direct wire transfer. Please contact us for details on how to send payments.
Compare Products
Select up to three two products to compare by clicking on the compare icon () of each product.
{{compareToolModel.Error}}
Now comparing:
{{product.ProductName | createSubstring:25}}
X
Compare Now